The page you were looking for contains information about cryptocurrencies. The sale and promotion of cryptocurrency derivatives to UK Retail clients has been banned by the FCA since 6 January 2021.
Scan to Download ios&Android APP
What is Decentraland (MANA)?
Operating costs and challenges
MANA token information and new developments
Is MANA coin a good investment?
Decentraland price prediction 2022-2025
FAQs
By Yoke Wong
Edited by Vanessa Kintu
14:01, 27 July 2022
Updated
Virtual reality project Decentraland's MANA token price crashed to a six-month low in early May but appears to have stabilised in the $0.80 to $1 range, as security issues on the digital platform have dimmed the outlook for the project.
On 3 May 2022, Decentraland said it had fixed a security issue related to its digital platform's LAND contract, which was reported on 12 March. A security researcher reported a critical vulnerability in Decentraland's LAND smart contract, which allowed anyone to transfer LAND without the asset owner's permission.
According to Decentraland, this issue was fixed within two hours of it being confirmed and all assets are safe. The Decentraland Foundation, which operates and maintains the project, conducted two audits of the LAND smart contracts to ensure the issue was resolved.
The LAND contract is crucial in verifying transactions of virtual properties on the digital platform. Severe security breaches could lead to theft of assets.
MANA is the utility coin for Decentraland, an Ethereum blockchain-based metaverse. The Decentraland cryptocurrency was trading around $0.8769 at the time of writing on 27 July 2022, down 47.2% from a month ago. It has dropped 8% compared with the same time last year.
The MANA coin value has been falling since hitting an all-time high at $5.90 on 25 November 2021.
Interested in learning more about the Decentraland coin's future price trend, outlook and analysts' predictions? Then read this analysis for the latest Decentraland (MANA) news and developments, as well as a summary of algorithm-based price projections and forecasts.
According to the project's whitepaper, Decentraland is a decentralised virtual reality platform that is powered by the Ethereum (ETH) blockchain.
The platform, co-founded by Ariel Meilich and Esteban Ordano in 2015, was launched in 2017 following a $24m initial coin offering (ICO). It was opened to public users in February 2020.
MANA, an ERC-20 token, is the Decentraland utility currency. Users can buy and sell digital land, as well as goods and services, using the MANA coin.
​​Users can purchase the limited land in this virtual reality world and develop assets into real estate. This in turn creates a hub and drives the creation of content and services.
According to Decentraland, unclaimed land can be purchased at the same exchange rate (1,000 MANA = 1 LAND). Property owners can trade at different prices on a secondary market in the virtual platform. After the purchase of land with MANA tokens, the currency will be 'burned' and a new entry in the LAND registry created.
Decentraland is governed by a decentralised autonomous organisation (DAO). MANA token holders control the agenda and vote on policies, such as rules governing land auctions and what types of content are allowed.
Users can create advertisements, digital collectibles and interactive games. Decentraland also said that "other use cases could emerge, such as training and professional development, education, therapy, 3D design, and virtual tourism, among others."
Bullish Bearish
98% 2%
You voted bullish.
You voted bearish.
Decentraland is not hosted on any centralised server infrastructure. Content is distributed on a decentralised peer-to-peer (P2P) network.
According to cryptocurrency data aggregator CoinMarketCap, there are 1.85 billion MANA tokens in circulation. In all, 40% of the MANA supply was sold during the 2017 ICO, while 20% was reserved to incentivise the community, 20% went to the development team and other early contributors, and the remaining 20% was held by Decentraland.
As transactions on Decentraland are backed by Ethereum blockchains, they incur a fee that is paid in Ether (ETH). This is referred to as a 'gas' fee. The higher the gas fee, the faster the transaction will get processed by miners. If the offer gas price is below market level, the transaction could go unprocessed.
Additionally, Decentraland is working with Matic to create a sidechain with cheaper and faster transaction processes. The benefits of using a sidechain are that events occur closer to real time and at a very low cost. However, Decentraland advises its users to use the more secure Ethereum chain for more valuable transactions.
On 20 January 2022, Decentraland launched more features on its platform, such as the My Store marketplace, where content creators can "manage their assets, collect and analyse stats and data for their items over time, and work on personal branding".
According to an unnamed contributor on Financial Horse:
Following social networking site Facebook's rebrand as Meta to focus on the metaverse, many technology companies have made major investments in the virtual reality platform. For example, Microsoft has rolled out Mesh for Microsoft Teams, which "allows people in different physical locations to join collaborative and shared holographic experiences".
Does the MANA crypto have a future? As major technology companies have joined in the development of the metaverse, many investors held high expectations for Decentraland and MANA coins. However, with a large volume of the coin held by whales, the future of the project could be driven by big investors.
According to data from CoinMarketCap, the top 10 holders of MANA coins account for 46.75% of the cryptocurrency's total circulation.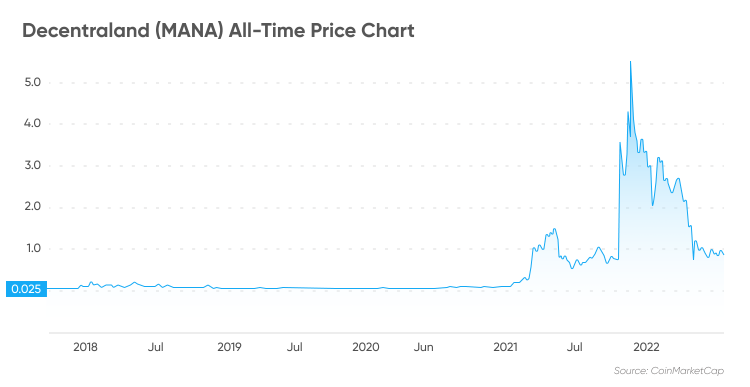 As of 27 July 2022, despite the mixed outlook for the project, the majority of algorithm-based forecast services' MANA crypto price predictions were bullish.
DigitalCoinPrice's Decentraland price prediction for 2022 saw the token averaging $1.13 throughout the year. The platform sees MANA rising to an average of $1.36 in 2023, then falling to $1.28 in 2024. DigitalCoinPrice then forecasts the token to recover and rise to an average of $1.78 in 2025.
According to the website's MANA price prediction for 2030, the coin could peak at $4.09 throughout the year while maintaining an average of $3.99 – a dollar shy of its November 2021 record high.
PricePrediction.net's outlook for MANA/USD was even more bullish – it projected the price to rise sharply in the next few years.
According to the platform's forecast as of 27 July 2022, the MANA/USD price could average $1.01 in 2022, $1.48 in 2023, $2.07 in 2024, $3.09 in 2025, $4.54 in 2026, $6.59 in 2027, $9.21 in 2028 and $13.39 in 2029. The website's Decentraland price prediction for 2030 saw the coin averaging $20.42 in 2030.
WalletInvestor was also optimistic in its MANA coin price prediction, forecasting the coin to close out 2022 at an average of $2.057.
The website's Decentraland price prediction for 2025 saw the coin trading at around the $5.50 mark in December that year, a level exceeding its previous record high. WalletInvestor forecasted that MANA could rally to average $6.865 by the end of 2027.
When looking at crypto price predictions you should remember the market is very volatile. Forecasts are based on inferences drawn from past performance by analysts. They can be wrong.
Investors should also consider the token's collaborations, partnership deals and fundamentals. You should do your own research, gauging how comfortable you are with the risk. Never invest money that you cannot afford to lose.
Whether or not the MANA coin is a good investment for you will depend on your portfolio composition, investment goals and risk profile. Different trading strategies will suit various investment goals, whether short or long-term.
Always do your own research. Remember that cryptocurrency markets are extremely volatile, and never invest money that you cannot afford to lose.
As of 27 July 2022, WalletInvestor, PricePrediction.net and DigitalCoinPrice all maintained bullish forecasts on the MANA token.
However, analysts' forecasts and algorithm-based projections can be wrong. Always do your own research before investing.
According to CoinMarketCap, there are 1.84 billion MANA tokens in circulation. It is unclear what the supply cap of tokens is.
PricePrediction.net's MANA price analysis expected the average price to reach $22.29 by 2027, while TechNewsLeader forecast the price to hit $10.38.
However, analysts' forecasts can be wrong and have been inaccurate in the past. Always do your own research before investing.
As of 27 July 2022, the price of the MANA coin was down -73.24% year-to-date Your decision to invest in the Decentraland token should be based on your risk tolerance, portfolio size and goals, and stock market experience.
You should always conduct your research to determine whether a cryptocurrency is suitable for you. Remember that previous results do not guarantee future returns, and never invest or trade money that you cannot afford to lose.

There are currently no responses for this story.
Be the first to respond.
New to trading? Learn to trade with Capital.com
Got a trading idea? Try it now.
Join the 427.000+ traders worldwide that chose to trade with Capital.com
1. Create & verify your account
2. Make your first deposit
3. You're all set. Start trading
Risk warning
Spread bets and CFDs are complex instruments and come with a high risk of losing money rapidly due to leverage. 80.61% of retail investor accounts lose money when trading spread bets and/or CFDs with this provider. You should consider whether you can afford to take the high risk of losing your money. Professional clients can lose more than they deposit. All trading involves risk. Risk Disclosure Statement
Crypto Derivatives are not available to Retail clients registered with Capital Com (UK) Ltd.
The value of shares and ETFs bought through a share dealing account can fall as well as rise, which could mean getting back less than you originally put in. Past performance is no guarantee of future results.
Capital Com (UK) Limited ("CCUK") is registered in England and Wales with company registration number 10506220. Authorised and regulated by the Financial Conduct Authority ("FCA"), under register number 793714.