Events that impact markets, stocks, IPOs, commodities, forex from regional to international – We've got it all covered.
Sectoral breakdown of the latest in business, stock markets and economy. Here's what trending today!
Your go-to page for detailed info on ASX-listed companies – from their origin to latest updates to contact information.
Helping you make informed decisions on investing, money, equities and personal finance. Seasoned investors or newbie traders, our financial education corner has something for all.
Your hunt for the best deals in Australia ends here.
Florida home sells as NFT: Top 3 non-fungible token projects to watch
Ankit is a law graduate. He holds an interest in public policy, corporate ethics, development economics, macro-economic policies, and sustainable development….
Sundeep is a senior editor with years of experience across print, broadcast, digital and social media. He's written and edited for publications in the UK, the UAE, the US, Denmark, Canada and India….
Non-fungible tokens (NFTs) are defying the odds that seem to have gripped risky assets like cryptos and listed shares. The Fed's likely rate hike has unnerved investors, but NFTs aren't losing sheen.
NFTs, which are nothing but a proof of ownership that is recorded on a blockchain network, have built on their 2021 momentum. In December last year, Nifty Gateway facilitated the auction of an NFT titled 'The Merge' for a whopping US$91.8 million. Besides, other Ethereum-based NFTs like 'Everydays' of Beeple, and CryptoPunk #7523 have also sold for millions of dollars each.
In a separate scene, NFTs seem to be entering the real tangible world with a bang. Though NFTs often represent digital intangible artworks, the recent sale of a house in Florida with NFT underpinnings is a major shift.
Claimed to be the first-ever sale of any real-world property using NFTs, the house exchanged hands for 210 Ether crypto tokens. According to an estimate, this was equivalent to nearly US$650,000. The sale was facilitated by Propy, a company enabling online property deals. The company claims the decentralized record of ownership prevents fraud, besides being a faster alternative to the traditional transfer of titles.
In this light, the below-mentioned three NFT crypto projects make for a close watch.
Decentraland is a pretty popular metaverse token, which gained considerably last year. The project, which uses Ethereum's blockchain, allows enthusiasts to purchase and hold virtual parcels of land as NFTs.
This land is located in the virtual reality world, popularly dubbed a metaverse, of the project. Owners of these land parcels can monetize their holding by way of leasing. Besides, the project claims to be a decentralized autonomous organization (DAO) where users control governance aspects.
Decentraland has a native Ethereum-based token MANA, which has a market cap of over US$5 billion as of now. MANA peaked to a price of nearly US$5.5 in November last year, but it is presently trading at nearly US$2.76.
Also read: Why are people buying virtual real estate? Should you too?
Axie Infinity is a game that promises to allow users to decide how it works. Based on blockchain technology, Axie Infinity attracted many users last year, which appreciated the value of the linked token AXS. One of the top-performing assets last year, AXS has a market cap of over US$3.4 billion as of now.
NFTs come into play in the Axie Infinity ecosystem through Axie creatures. Users can own these creatures within the game, and outside of it, these NFTs are tradable on platforms like OpenSea.
Axie NFTs are at the heart of the entire ecosystem of the game. Every such Axie creature is said to be unique, and this distinctiveness decides the price.
The AXS token may also gain if Axie NFTs trade at a high price. Once priced over US$150, AXS is trading at nearly US$57 as of now.
Also read: Top 5 blockchain games of 2021 with massive price appreciation
Top 3 Non-Fungible Token Projects To Watch
SuperRare isn't a metaverse like Decentraland, nor is it a gaming verse like Axie Infinity. Instead, it is a platform where NFTs can be traded.
Though Christie's and Sotheby's have enabled the sale of NFTs through auctions, such platforms have a centralized authority. New platforms like SuperRare claim to be community-led, which means users are in-charge of governance. Besides, SuperRare also provides NFT minting features to creators, and a way to promote and sell their unique artwork.
Also read: What is Polymath's Polymesh & POLY crypto's price prediction?
SuperRare is powered by its own native token RARE, which is based on Ethereum's network. RARE also acts as a governance token, and if the SuperRare trading platform finds more acceptance, the price of the RARE token may also appreciate. As of now, this nearly US$71 million market cap cryptocurrency is trading at approximately US$0.7.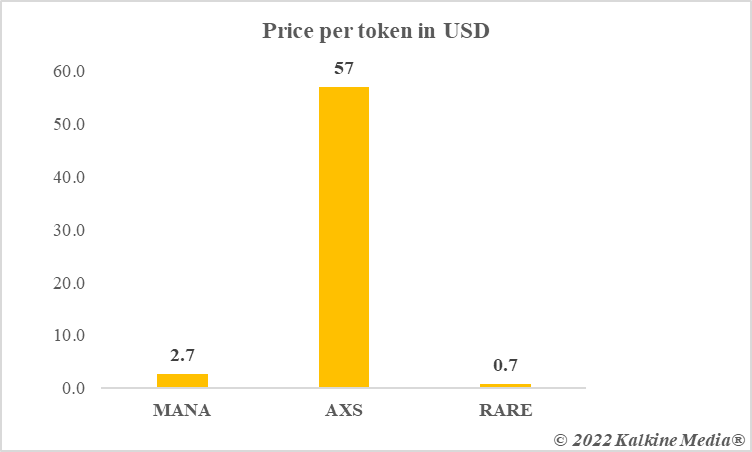 Data provided by CoinMarketCap.com
Also read: Bitcoin price prediction 2025: Can Web 3.0 catapult BTC to $300,000?
From being viewed as something that could only power digital artwork, NFTs have now moved to the real world. The sale of a house through NFT technology is a major shift, and reports suggesting YouTube's plunge into NFTs can serve as another booster.
That said, some analysts claim that individual NFTs can be overpriced. For example, a CryptoPunk that sells for millions of dollars may not be worthy of that price tag, critics claim. The above three projects have their own native tokens. All have something to do with NFTs, but their native tokens can behave differently.
The prices of these three tokens would likely be shaped by the success or failure of the linked projects. If Axie Infinity grabs more users, AXS's demand would surge, which may lift the price. Likewise, if SuperRare can prove to be a superior platform than Christie's and Sotheby's, the linked RARE token may gain. MANA price might depend on how Decentraland's metaverse unfolds.
Copyright © 2022 Kalkine Media Pty Ltd. All Rights Reserved.
ACN:629 651 672 ABN:84 629 651 672
source