The page you were looking for contains information about cryptocurrencies. The sale and promotion of cryptocurrency derivatives to UK Retail clients has been banned by the FCA since 6 January 2021.
Scan to Download ios&Android APP
What is GALA coin?
Key drivers of the GALA crypto price
What's next for the Gala Games crypto?
GALA coin price prediction: Will this be a good few years?
FAQs
By Iliana Mavrou
Edited by Jekaterina Drozdovica
08:41, 25 April 2022 Updated
Share this article
Have a confidential tip for our reporters?
Get In Touch
April continues to be unkind to the GALA (GALA) cryptocurrency which has today (25 April) dropped another 9% meaning a loss of 39% since the end of March.
GALA is responsible for the smooth running of the Gala Games ecosystem. It had a wild ride in February leaping 108% at the start but had then lost those gains by the end of the month.
March saw more consistent growth from a low of $0.22 pushing up 27% before plunging to $0.24 as April opened. Today's price chart opens the prospect of a new declining wedge picking up the declines from the March high.
However rival gaming sites also have started the weekly poorly with The Sandbox (SAND) losing 4% and Decentraland (MANA) losing 6%.
What does the long-term sentiment look like for the GALA price prediction in 2022, 2025 and 2030?
Gala Games was founded in 2018 by Eric Schiermeyer (co-founder of game developer Zynga), Wright Thurston (crypto miner) and Michael McCarthy (creative director behind viral gaming like Farmville) with one goal in mind: to give power back to the gamers.
Through this initiative, Gala Games' co-founders are targeting a wide niche of gamers who would like to change the gaming ecosystem.
The introduction of non-fungible tokens (NFTs) into the Gala Games ecosystem was the first step into making gaming more decentralised as well as helping players take control over the ownership of their game items. NFTs can be collected, traded and sold, not just within their own game but throughout the entirety of the Gala Games ecosystem.
In order to give power back to the gamers, Gala Games has established a blockchain network powered by the GALA tokens, which power the entirety of the platform. Built on the Ethereum network, GALA tokens are transferable between users who have full control over how to use them.
Users can also purchase nodes in GALA, ether (ETH) and Basic Attention Token (BAT) and acquire voting rights on which games will be published next on the platform, allowing players to exercise full governance. This process is also known as the Founder's Nodes within the Gala Games Ecosystem, which is powered by over 16,000 player-run nodes.
GALA cryptocurrency can also be used as a reward to owners and is distributed daily to Founder's Nodes that have operated for at least a required time using a point system. Running a node for six hours within a cycle will earn players one point. In order for the network to run smoothly, 50,000 Founder's Nodes were released upon its launch.
In the long run, Gala Games is planning to establish multiple game studios that will each work on multiple games, creating a steady stream of NFTs, which will get dropped to the node network in order to incentivise the network and keep it stable.
So far, the platform has released one playable game – Town Star – and an NFT collectible series – VOX.
No data is available on the maximum supply of GALA tokens; however, total supply exceeds 35 billion, with nearly seven billion in circulation. The token reached over $1.21bn in market capitalisation and is ranked as the 71st largest cryptocurrency by CoinMarketCap as of 25 April 2022.
GALA cryptocurrency did not have an initial coin offering (ICO) upon its launch.
Since its launch, the platform has acquired 1.3 million monthly active users and sold more than 26,000 NFTs, with the most expensive so far selling for $3m. These numbers are taken from the Gala website and have not been updated for several months.
"I wouldn't be doing this if I didn't think this was literally the next phase of the internet. Everything that touches ownership is going to be affected by what's happening here," said GALA's founder Eric Schiermeyer.
"Art and music and everything that has a digital life is going to be touched by this. Anything that you thought was digital that you thought you owned but didn't really own — that's what's about to be revolutionised," he added.
The Gala Games token started to gain traction in September 2021 after being listed on Binance as well as Bibox crypto exchange platforms in the middle of the month as its price surged by 51,594% to $0.113 on 23 September 2021 from its previous all time low of $0.00022 on 28 December 2020.
Following updates to Gala Games inventory, which made transferring items from within the platform's ecosystem to Ethereum much easier, as well as the signing of a memorandum of understanding between Gala Games and Wemade Tree (the blockchain subsidiary of Korea-based gaming giant Wemade), the GALA crypto price moved sideways throughout October and mid-November.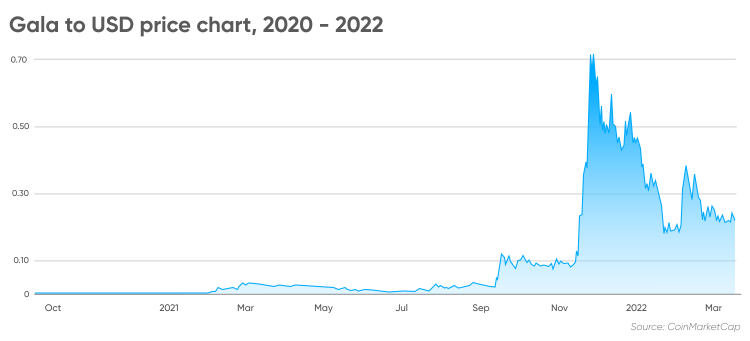 News published on 15 November that the company would be releasing its very first limited supply of Game Node licences for Town Star boosted the GALA token by 192%, up from $0.13 on 15 November 2021 to $0.37 a week later.
The token's price managed to keep a steady growth pace and by 28 November 2021 surged to $0.71, its all-time high, following the announcement of the release of a new series of its VOX NFTs.
GME
AAPL
GOOG
TSLA
Success, however, did not last long for the GALA cryptocurrency despite a general hype surrounding play-to-earn platforms, which in November surpassed a $1bn record in NFT trading volume, according to data published by DappRadar.
Between its all time high at the end of November and 3 December, the token's value dropped by 29% to $0.51.
Bullish Bearish
100% 0%
You voted bullish.
You voted bearish.
The Gala Games coin continued on a downward trend in the following month until it reached $0.18 on 22 January 2022 despite securing a $100m blockchain gaming fund in partnership with C² Ventures and preparing for the launch of Phase 2 of the nodes ecosystem at the start of January.
The token then moved sideways for a little over a week before jumping by 110% to $0.38 on 8 February from its 22 January value, as anticipation built around the upcoming release of 8,888 membership NFTs in the Flare realm where Gala Games had integrated with the Flare Network.
In more recent GALA coin news, the platform announced that it had partnered with popular American rapper Snoop Dogg and would be releasing his latest record, B.O.D.R, on the blockchain and that the tracks would be sold as NFTs.
By 15 February, the token's value started to rapidly decline once again, falling by 37% in one week from $0.36 on 15 February to $0.22, following Russia's invasion of Ukraine that triggered overall negative market sentiment.
"The surge in GALA token is mainly due to the interest in metaverse and gaming tokens worldwide," BigONE Exchange chair in Asia, Anndy Lian, told Capital.com.
"Its founders have done well in gaming and crypto mining. This becomes an added advantage. The token itself is based on Ethereum and is well supported by the community of faithful investors. Adding steam to the whole equation is that they are listed on most of the leading exchanges including Binance, FTX, Coinbase, Bybit, Huobi and Kucoin."
Since 15 February 2022, the GALA crypto price has been drifting sideways and downwards despite endorsements from the likes of rapper Snoop Dogg and celebrity Paris Hilton. As of 25 April 2022, the token is trading at $0.17.
The platform has lined up a number of exciting partnerships including Frank Miller, Under Armour and AMC's hit show The Walking Dead. Upcoming projects include the release of more games such as Last Expedition #, legacy and The Walking Dead: Empire, which will drive a new range of users to the Gala Games ecosystem.
It is also planning to expand its sustainable initiatives.
Between 6 and 8 June 6 2022, the platform will be in Copenhagen, Denmark, where it will host Galaverse, an immersive world experience for each one of its games.
Because the GALA token was built on the Ethereum network, it heavily relies on the ETH performance, making it quite volatile. Moreover, the token could start facing competition as tensions rise in the gaming/NFT space amid their growing popularity, Invezz's data analyst, Dan Ashmore told Capital.com.
However, he noted that brighter times for the GALA coin value could be looking up ahead.
"GALA, the community-led gaming platform, spiked 20% in 24 hours at the start of February following the news that Galaverse will occur in June. At the last event last December, numerous projects were launched (including Legacy & The Walking Dead: Empires), and there is speculation more will be announced this June," he told Capital.com.
"20% represents a huge jump for merely an event, and markets have pulled the token back below levels even before the announcement. GALA earlier announced a $5bn investment to expand their NFTs, and if that or the Galaverse don't work out, this token could continue to tumble… If, however, projects remain on track and Galaverse does not disappoint, GALA could rise above a $3.5bn market cap. The all-time highs of $5bn set last November seem a reach."
Algorithm-based forecasting service Wallet Investor gave a positive GALA prediction at the time of writing (25 April), calling it an "awesome long-term investment".
Based on its analysis of the cryptocurrency's past performance, the site predicted that the GALA cryptocurrency could trade at $0.48 in 12 months and reach $1.62 by 2027.
Digital Coin Price supported the bullish GALA crypto price prediction but at a much slower pace, seeing the coin reach $0.23 by the end of 2022 and $0.43 by December 2025.
The site did not see a GALA price prediction surpassing its all-time high any time soon as its long-term GALA coin forecast showed the cryptocurrency reaching $0.39 by the end of 2027 and $0.79 by 2030.
Note that these predictions can be wrong. Forecasts shouldn't be used as a substitute for your own research. Always conduct your own due diligence before investing, and never invest or trade money you cannot afford to lose.
Whether GALA is a good investment for you depends on your personal circumstances and risk appetite. Cryptocurrencies are high-risk, highly volatile assets. You should do your own research and evaluate the level of risk you are prepared to accept before investing. And never invest money you cannot afford to lose.
DigitalCoin gave an upbeat GALA coin price prediction seeing its value reaching $0.23 by the end of 2022, jump to $0.34 by December 2025 but not surpass the $1 level this decade hitting $0.79 by the end of 2030.
Note that these predictions can be wrong. Forecasts shouldn't be used as a substitute for your own research. Always conduct your own due diligence before investing, and never invest or trade money you cannot afford to lose.
At the time of writing (25 April), algorithm-based company Wallet Investor gave a positive Gala token price prediction suggesting that the token could reach $0.48 in 12 months and reach $1.62 by 2027.
It should be noted that predictions can be wrong. Forecasts shouldn't be used as a substitute for your own research. Always conduct your own due diligence before trading, and never trade money you cannot afford to lose.
The week ahead update on major market events in your inbox every week.
Refer a friend!
Invite like-minded traders to open a CFD trading account with us and earn up to $100
New to trading? Learn to trade with Capital.com
Join the 380.000+ traders worldwide that chose to trade with Capital.com
1. Create & verify your account
2. Make your first deposit
3. You're all set. Start trading
Risk warning
Spread bets and CFDs are complex instruments and come with a high risk of losing money rapidly due to leverage. 78.91% of retail investor accounts lose money when trading spread bets and/or CFDs with this provider. You should consider whether you can afford to take the high risk of losing your money. Professional clients can lose more than they deposit. All trading involves risk. Risk Disclosure Statement
Crypto Derivatives are not available to Retail clients registered with Capital Com (UK) Ltd.
The value of shares and ETFs bought through a share dealing account can fall as well as rise, which could mean getting back less than you originally put in. Past performance is no guarantee of future results.
Capital Com (UK) Limited ("CCUK") is registered in England and Wales with company registration number 10506220. Authorised and regulated by the Financial Conduct Authority ("FCA"), under register number 793714.