The page you were looking for contains information about cryptocurrencies. The sale and promotion of cryptocurrency derivatives to UK Retail clients has been banned by the FCA since 6 January 2021.
Scan to Download ios&Android APP
What is Klaytn crypto?
Klaytn coin (KLAY) price analysis
Klaytn coin [Read full bio]
Subscribe to our daily newsletter to get the latest industry news and latest developments
Klaytn (KLAY) price prediction: what is the future of KLAY coin?
FAQ
By Nicole Willing
Edited by Alexandra Pankratyeva
14:10, 30 November 2021
Share this article
Have a confidential tip for our reporters?
Get In Touch
The KLAY token for the Klaytn blockchain has retreated in price after moving higher in early November.
Klaytn is developed by South Korean Internet giant Kakao and GroundX, its blockchain subsidiary. It provides a way for South Koreans to trade non-fungible tokens (NFTs).
The South Korean government said in October that income from digital asset transactions will be taxed from 1 January 2022 but NFTs would not be taxed yet, providing support to the market. However, the country's financial services regulator indicated last week that it might impose taxes on NFTs. The KLAY/USD price has since trended lower.
Will the Klaytn price rise again? In this analysis, we look at recent KLAY crypto news and the latest Klaytn price predictions.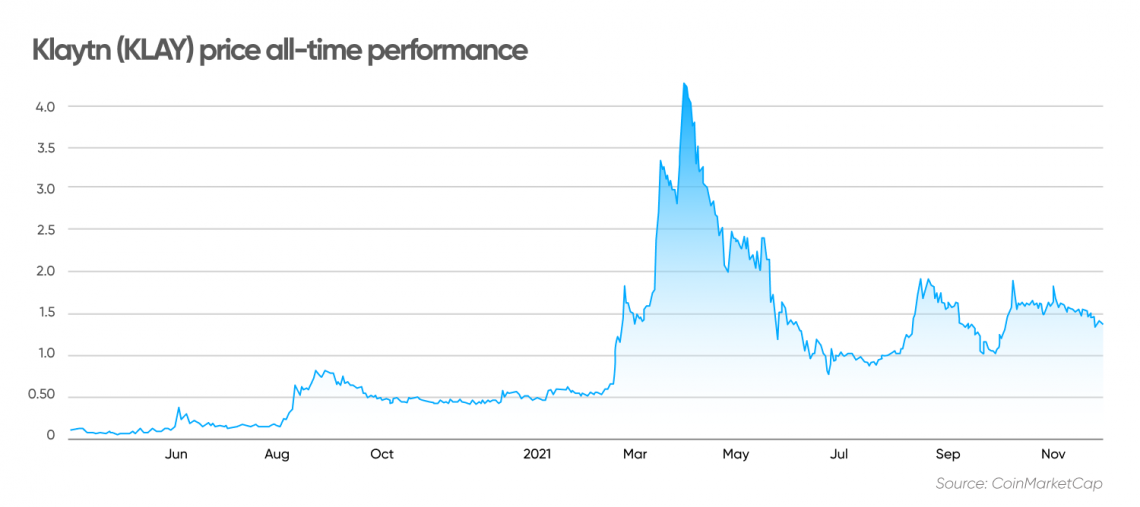 The Klatyn blockchain is designed to provide "an enterprise-grade, service-centric platform" to a widespread user base. "It combines the best features of both public blockchains (decentralised data and control, distributed governance) and private blockchains (low latency, high scalability) via an efficient 'hybrid' design", according to its website.
"Klaytn is secured by participation from numerous highly-reputable brands around the globe, working together to create a reliable business platform atop a robust system of decentralised trust," says the company. "Klaytn enables businesses and entrepreneurs today to capture value using blockchain technology."
The Klaytn blockchain uses an optimised version of Practical Byzantine Fault Tolerance (PBFT) as its consensus algorithm with modifications to allow many nodes to participate in the network and increase its scalability.
"In Klaytn, there are three types of nodes, CN (Consensus Node), PN (Proxy Node) and EN (Endpoint Node). CNs are managed by CCOs (Core Cell Operators) and are in charge of block generation. These blocks are verified by all nodes in the network," says the company. "Klaytn Mainnet Cypress can provide a high throughput of 4,000 transactions per second with one-second block generation interval. More than 50 consensus nodes can participate in the CNN (Consensus Node Network) at the moment and the number will continuously increase as Klaytn continues to aggressively optimise the algorithm."
Klaytn has achieved dominance in South Korea, where Kakao operates The country's largest messaging and social media service. The company's KakaoTalk products suite has more than 52 million active users. It integrates Klaytn's Klip cryptocurrency wallet into its mobile app directly, making it easy for customers to use the technology.
Please design a similar image for Klaytn:
KLAY is the cryptocurrency coin for the Klaytn blockchain, which is developed by South Korean Internet giant Kakao. The hybrid blockchain model aims to bring together enterprise-grade scalability and the decentralisation of public blockchains. It is one of the main providers of NFTs for the South Korean market.
KLAY, the native token for the Klaytn blockchain, launched in late March 2020. Unlike many other coins, KLAY did not undergo an immediate price surge followed by a drop when it launched. The price started at $0.09194 and traded between $0.06 and $0.09, rose up to $0.30 on 8 June 2020, before dipping to $0.17.
In early August, it started rising again alongside the rest of the market, hitting $0.8306 by the end of the month. This was followed by yet another price correction to $0.46, after which the coin's value remained relatively stable until mid-February 2021.
As bitcoin (BTC) and ether (ETH) started surging and setting new record highs, and with the NFT and decentralised finance markets gaining strength, the KLAY price spiked to $1.85 in late February. It slipped to $1.23, but then surged to an all-time high of $4.38 on 2 April.
KLAY then dropped as the cryptocurrency markets crashed, falling to $0.7371 on 22 June. In line with the markets, the price climbed again in August, retreated during a September selloff and climbed again in October. The price has trended lower after reaching $1.86 on 2 November as seen on the chart below, although it has edged off the lows since 26 November as the broader crypto markets made strong gains.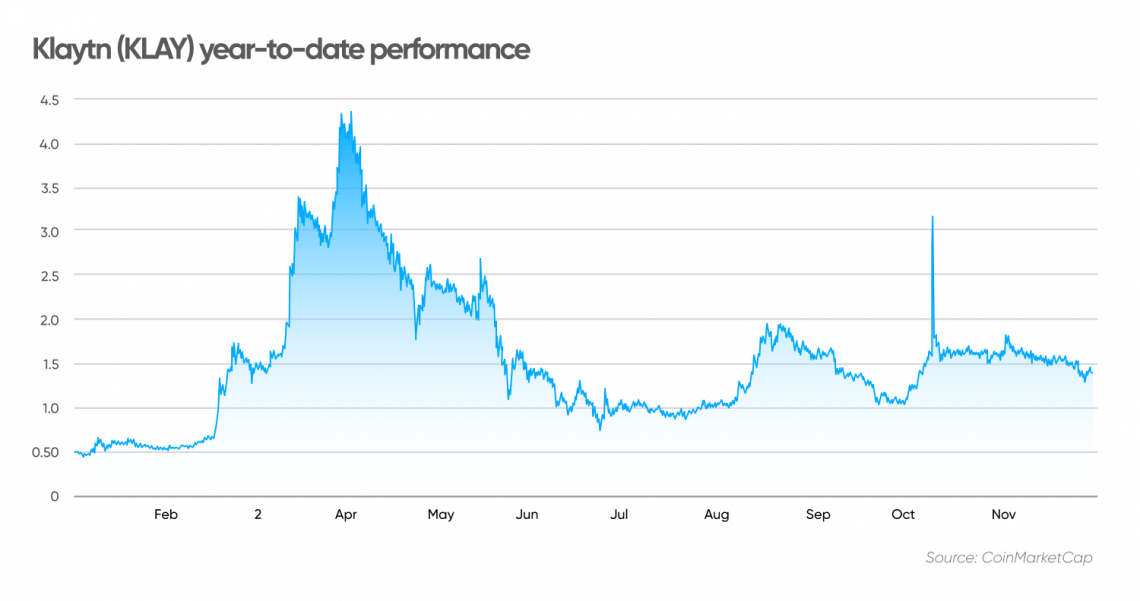 GME
AAPL
GOOG
TSLA
Klaytn has been expanding its partnerships in recent weeks. On 19 November, KlayFi Labs selected the KLEVA protocol for the first participating project in its KlayStarter LaunchPad.
KLEVA is the first leveraged yield farming protocol on the Klaytn network. ​KlayFi Labs also announced a business collaboration with play-to-earn gaming developer WEMADE.
On 22 November, D'CENT Wallet announced that it had added support for Klaytn NFTs alongside NFTs based on the Ethereum blockchain.
And on 23 November, NFT project Klapes announced a partnership with Klaytn to become the first Klaytn-backed NFT project.
As the network expands its ecosystem, let's look at some of the long-term Klay price predictions.
Short-term technical analysis from CoinCodex was bearish for Klaytn coin, as of 30 November, with 19 technical indicators giving bearish signals compared with seven bullish. With the exception of the 200-day simple moving average (SMA), the daily SMAs and exponential moving averages (EMAs) were bearish, along with the Hull moving average and volume-weighted moving average.
At the time of writing on 30 November, KLAY was trading at $1.41, having fallen through technical support at $1.42. There was further support at $1.38 and $1.36, while resistance was up at $1.49, $1.51 and $1.55. CoinCodex predicts that the KLAY price will be relatively stable in the coming days, trading at $1.41 on 5 December.



KLAY price prediction from algorithm-based forecasting site Wallet Investor expects the price to trade at $1.497 by the end of December 2021. It projects that KLAY will trend higher during 2022 to reach $2.634 by the end of the year. Wallet Investor estimates that the KLAY price will more than double to $6.011 by the end of 2025.
DigitalCoin's KLAY crypto price prediction (as of 30 November) is less bullish for the long-term, projecting that the coin will average $4.15 in 2025, up from an average of $2.47 in 2022. It expects KLAY to average more than $6 in 2028, at an average of $6.17 with a peak at $6.64, the data shows.
Gov Capital gave an upbeat Klaytn prediction, forecasting that the token will trade at $1.593 by the end of 2021, rallying to $6.794 by the end of 2022, $14.227 by the end of 2023, $23.935 by the end of 2024 and $35.928 by the end of 2025. In five years' time, Gov Capital projects that the price could rise to $49.074.
The Klaytn price forecast from Price Prediction expects the coin to average $2.11 in 2022, $3.13 in 2023 and $6.61 by 2025. By 2028, it projects the KLAY price could rally to $21.27 and average $45.35 by 2030.
It's important to keep in mind that cryptocurrency markets remain extremely volatile, making it difficult to accurately predict what a coin's price will be in a few hours, and even harder to give long-term estimates. As such, analysts and smallest business to interact with the wider world. Social media allows you to create a dynamic online forecasting sites can get their predictions wrong.
KLAY predictions shouldn't be used as a substitue to your own research. Always do your own due diligence and evaluate the latest market trends, news, technical and fundamental analysis, and expert opinion before making any trading decisions. Never invest more than you can afford to lose.
Cryptocurrencies are highly volatile assets, making them riskier than other forms of investment. Whether the KLAY token is a good investment for you depends on your personal circumstances. You should evaluate the level of risk you are prepared to accept before investing. And never invest money that you cannot afford to lose.
Forecasting sites mentioned above gave a positive Kpredict that the Klaytn crypto price predictions, suggesting the coin could trade up from the current $1 level to around $6 by 2025. The more bullish forecasts, such as those from Price Prediction, estimate the coin could reach $20 by 2028. Note that the cryptocurrency markets are volatile and algorithm-based price targets may get it wrong.
Algorithm-based forecasts, mentioned in the article, suggest that KLAY could average $2.40 in one year, rising to more than $3 in three years and around $6 in five years.
Got a trading idea?
or try Try Free Demo
Refer a friend!
Invite like-minded traders to open a CFD trading account with us and earn up to $100
Join the 345.000+ traders worldwide that chose to trade with Capital.com
1. Create & verify your account
2. Make your first deposit
3. You're all set. Start trading
Risk warning
Spread bets and CFDs are complex instruments and come with a high risk of losing money rapidly due to leverage. 78.79% of retail investor accounts lose money when trading spread bets and/or CFDs with this provider. You should consider whether you can afford to take the high risk of losing your money. Professional clients can lose more than they deposit. All trading involves risk. Risk Disclosure Statement
Crypto Derivatives are not available to Retail clients registered with Capital Com (UK) Ltd.
The value of shares and ETFs bought through a share dealing account can fall as well as rise, which could mean getting back less than you originally put in. Past performance is no guarantee of future results.
Capital Com (UK) Limited ("CCUK") is registered in England and Wales with company registration number 10506220. Authorised and regulated by the Financial Conduct Authority ("FCA"), under register number 793714.