The page you were looking for contains information about cryptocurrencies. The sale and promotion of cryptocurrency derivatives to UK Retail clients has been banned by the FCA since 6 January 2021.
Scan to Download ios&Android APP
What is Pi Network?
PI remains in pre-release mode
What is the future of the PI coin?
Pi coin price prediction 2022-2025
FAQs
By Nicole Willing
Edited by Valerie Medleva
09:14, 17 May 2022 Updated
Share this article
Tags
Have a confidential tip for our reporters?
Get In Touch
There is still no indication when — or even if — the 33 million so-called Pioneers, who mine on the Pi Network (PI), are ever going to benefit from their coins. As of 16 May, there are still no coins being traded. There have been no transactions and no fiat rewards, making it difficult to establish the worth of the PI coin.
It's important to distinguish Pi Network's coin from the Pi Network DeFi token, which runs on the Binance (BNB) blockchain and is available for trading on the PancakeSwap (CAKE) decentralised exchange (DEX).
So what is Pi Network and how does it work? Have you heard of the new cryptocurrency and are wondering about the worth of Pi coin as a potential investment?
This article provides an overview of what the Pi Network aims to achieve and how Pi price expectations have emerged before a single coin has been traded.
Pi Network is a digital currency project that aims to keep cryptocurrency mining accessible, because the centralisation of first generation currencies like bitcoin (BTC) has put them beyond the reach of many everyday users. The Pi Network, developed by a team of Stanford University graduates, enables users to mine Pi cryptocurrency coins using its desktop and mobile phone apps, validating transactions on a distributed record.
Unlike nodes on networks such as Bitcoin that use proof-of-work (PoW) protocols, Pi nodes use an algorithm based on the Stellar Consensus Protocol (SCP). Pi Nodes validate transactions on a distributed ledger and reach a consensus on the order of new transactions that the ledger records.
Under SCP, PI nodes form security circles, or groups, of three to five trusted people known to each of the networks' users. Security circles build a global trust network that prevents fraudulent transactions, as transactions can only be validated on the shared ledger if the trusted nodes approve them.
The PI mining app acts as a cryptocurrency wallet, linked to a user's mobile phone number or Facebook account. As with other public blockchains, the Pi blockchain will allow external wallets to hold Pi coins and submit transactions directly to the blockchain. However, unlike other blockchains, its developers have not yet released its source code.
With branding based on the number π, Phase 1 of the project launched in 2019 on Pi Day, 14 March, with a free PI mining app. By June 2019, the network had more than 100,000 active users. A year later, when Phase 2 launched, there were more than 3.5 million users.
The app started running ads in May 2020 to provide a source of financing for the project.
On 15 March 2022, Pi Network announced that the user base had climbed to 33 million, more than doubling from 14 million in March 2021.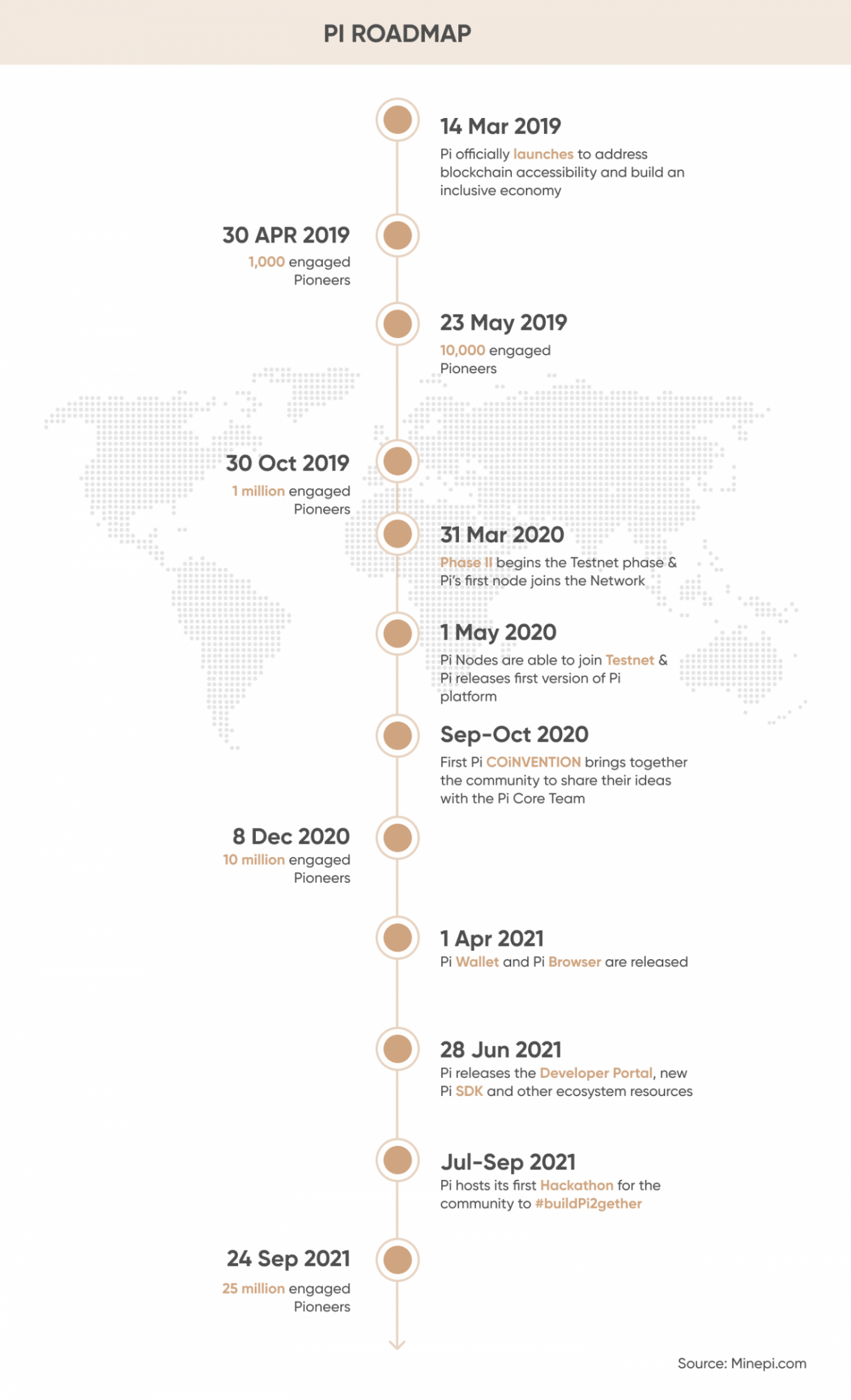 As with other cryptos such as bitcoin, Pi was designed to undergo regular "halving" to protect its scarcity. Halving is when the number of coins a miner receives for processing new transactions is reduced by half. It usually occurs when a certain milestone is reached.
PI's mining rate halved from 1.6 π an hour when it reached 100,000 users; halved again to 0.4 π an hour when it reached 1 million; and halved again to 0.2 π when it reached 10 million users. It will continue to halve, reaching zero at 1 billion users.
????10m+ Pioneers!
Mainnet in a year!
The base mining rate halved when Pi crossed 10 million engaged Pioneers! Your mining rate will adjust with your next sessions.
Halving protects Pi's scarcity. Mine at a higher rate while you can.
Read more about the full plans in Pi app. pic.twitter.com/GXcnLW0oBm
In November 2021, the development team started releasing tech and product updates. These included its pilot Know Your Customer (KYC) app and Block Explorer. Having been tested with community moderators, the KYC App Pilot was deployed "on a limited basis" to start the process of verifying Pioneers and to improve the app's usability and machine automation. The Pi Block Explorer, which helps Pioneers see transaction history and explore transaction data such as sender, receiver, and amount, was also deployed.
The Pi Wallet was also updated, enabling the developers to create push notifications to alert Pioneers when they receive a payment on the blockchain and fixing a bug for Android users who could not see their wallet passphrase.
Pi Network launched an "Enclosed Mainnet" on 28 December 2021 to continue testing ahead of its full launch. It also introduced a new mining mechanism and "infrastructure to provide Pioneers a simulation of the upcoming mining formula". The KYC app was initially launched to a few thousand pilot participants for testing, which 100 Pioneers permitted per country or region.
According to the project's blog:
"The Enclosed Network period means that the Mainnet is live but with a firewall that prevents any unwanted external connectivity. Pioneers will be able to take time to KYC and migrate their Pi to the live Mainnet blockchain. Any balance migrated to the Mainnet can be used, by the choice of the Pioneer, to purchase goods and services in Pi apps, transfer to other Pioneers, or get locked up for a duration of time for a higher mining rate."
On Pi Day (14 March 2022), the development team announced two more updates: the rollout of a mass KYC solution, and a new Pi mining mechanism that allows more diverse mining rewards. These actions could potentially enhance the value to advertisers.
GME
AAPL
GOOG
TSLA
The developers added on 16 March that they were rolling out KYC "on a large scale" to eligible users.
????Attention Pioneers???? Mass KYC is being rolled out! Pi Network is releasing the KYC solution on a large scale to Pioneers around the world. Look for a pop-up in the mining app when you are eligible, or check the KYC app in the Pi Browser. pic.twitter.com/eEaWthSNaq
If you are wondering how to buy the PI coin for your portfolio, you can't. Users who have mined the PI cryptocurrency will only be able to withdraw or exchange their coins when the mainnet blockchain is opened fully. PI cannot be transferred during the testing phase in order to prevent fake accounts from accumulating coins, according to the project's website. Wallet balances are expected to be honoured when PI shifts from the development mode to become a fully live network.
Bullish Bearish
92% 8%
You voted bullish.
You voted bearish.
Give BTC/USD a try
As a result, the coin is not yet available to trade on any cryptocurrency exchange or trading platform.
Currently, debate continues over whether Pi Network is a well-intentioned initiative or a scam.
If it is a scam, it is not a traditional one in the fashion of a Ponzi scheme because users are not investing their money, they are investing some time on their mobile phones.
Where the organisation has been criticised is for allegedly exploiting its community by selling advertising to reach these 33 million users, which it calls Pioneers. That figure comes from the Pi Network website and has not been updated since 14 March.
However, early adopters are accumulating Pi crypto in anticipation that the price will rise sharply after the network goes live. Although the coin's mining rate has been reduced by halving, users can increase their mining rate by connecting with other active miners. New users can only join the Pi Network if they have a referral code from another user.
The project's developers claim that security on the Pi Network is enhanced by these personal networks, encouraging users to bring in friends and family – fuelling scepticism that it could be a multi-level marketing or pyramid scheme. However, it is worth noting that users can only earn coins from their own direct networks and not from their connections' networks, as with an MLM scheme.
Pi Network has continued to insist it is not running an initial coin offering (ICO) or crowdfunding sale, and coins that can be mined on the enclosed mainnet currently stay in the ecosystem.
On 12 March, the developers said that the Enclosed Network period will give Pioneers time to pass KYC verification, tweak the mainnet and add more apps. They did not say when the network will become open – only that "the Enclosed Network period is in line with Pi's vision of a utility-based ecosystem and its iterative philosophy".
While the price of PI has yet to be established, some cryptocurrency observers have already started to make a PI crypto price prediction.
Let's take a look at what the PI price could be when it does start trading.
As with other digital coins at launch, the PI Network value is likely to start at a relatively low level against the US dollar and rise as usage grows. What do some of the price forecasters suggest?
Cryptocurrency data provider CoinMarketCap previously listed the value of the coin at $0.007077, but at the time of writing (16 May) listed the coin as "untracked", with no price quote attached.
Algorithm-based forecasting sites Wallet Investor and DigitalCoin listed a value of $0.007077 for Pi coin. Last year, DigitalCoin suggested that the coin could trade at an average of $0.0127 in 2022 and $0.0212 by 2025, growing throughout 2023 and 2024. It then predicted the token could cost $0.0319 in 2018. However, the website is no longer giving a PI price prediction, although it has a listing for the PI Network DeFi coin.
Looking at the longer term, the PI coin value in 2030 could depend on when the cryptocurrency goes live for trading and how it performs after the launch. Estimates from some users on social media range from $1 to hundreds of dollars.
It's important to keep in mind that cryptocurrency markets remain extremely volatile, making it difficult to accurately predict what a coin's price will be in a few hours, and even harder to give long-term estimates such as the PI cryptocurrency value in 2025. As such, analysts can and do get their predictions wrong.
We recommend that you always do your own research, and consider the latest market trends, news, technical and fundamental analysis, and expert opinion before making any investment decision. And never invest more than you can afford to lose.
At this time, investors are unable to trade Pi coins. If you expect the project to successfully launch an accessible cryptocurrency that does not price out everyday users, you could get involved in mining the coin. Alternatively, you could wait to buy it on an online exchange.
Whether the PI coin is a suitable investment for your portfolio is a decision only you can make. Remember to always do your own research. And never invest money you cannot afford to lose.
The future of the PI coin will likely depend on the process of its transition from the enclosed mainnet to fully live operations and the adoption of the apps in the Pi Network ecosystem, among other factors.
Cryptocurrencies are highly volatile assets, and there is uncertainty surrounding the Pi Network in particular as it has yet to launch. The project's developers claim that the network is secure, while critics claim that it could be a pyramid scheme. You should always do your own research to form a view on the project's safety.
The coin has not been launched. It's impossible to predict its future with any degree of accuracy. Whether you believe any PI coin (PI/USD) forecast is a decision only you can make. As always, you should do your own research. And never invest more than you can afford to lose.
There are currently no PI coins in circulation. The developers have yet to provide detail on the number of Pi coins that will circulate once the project goes live, or what the maximum supply will be.
PI's performance could depend on how the project develops once it goes live for trading, as well as the effect of overall sentiment on the cryptocurrency markets, among other factors.
The PI cryptocurrency is planned to launch during the Pi Network's third development phase. A date has not been set. Timing will depend on the progress of the testing phase and the subsequent listing on cryptocurrency exchanges.
The week ahead update on major market events in your inbox every week.
New to trading? Learn to trade with Capital.com
Refer a friend!
Invite like-minded traders to open a CFD trading account with us and earn up to $100
Join the 380.000+ traders worldwide that chose to trade with Capital.com
1. Create & verify your account
2. Make your first deposit
3. You're all set. Start trading
Risk warning
Spread bets and CFDs are complex instruments and come with a high risk of losing money rapidly due to leverage. 78.91% of retail investor accounts lose money when trading spread bets and/or CFDs with this provider. You should consider whether you can afford to take the high risk of losing your money. Professional clients can lose more than they deposit. All trading involves risk. Risk Disclosure Statement
Crypto Derivatives are not available to Retail clients registered with Capital Com (UK) Ltd.
The value of shares and ETFs bought through a share dealing account can fall as well as rise, which could mean getting back less than you originally put in. Past performance is no guarantee of future results.
Capital Com (UK) Limited ("CCUK") is registered in England and Wales with company registration number 10506220. Authorised and regulated by the Financial Conduct Authority ("FCA"), under register number 793714.