The page you were looking for contains information about cryptocurrencies. The sale and promotion of cryptocurrency derivatives to UK Retail clients has been banned by the FCA since 6 January 2021.
Scan to Download ios&Android APP
SingularityNET offers decentralised AI platform
AGIX price in long-term decline
SingularityNET (AGIX) price prediction: AGIX faces uncertain future
FAQs
By Nicole Willing
Edited by Valerie Medleva
07:13, 27 January 2022
Have a confidential tip for our reporters?
Get In Touch
The price for the SingularityNET cryptocurrency token AGIX has declined since the start of the year, having been in a downward trend following a spike in September 2021.
SingularityNET aims to enable interoperable artificial intelligence (AI), which is expected to play a key role in digital transformation across industries.
What is the SingularityNET platform and how does the AGIX coin work?
In this article, we look at the protocol, its latest developments and some of the predictions for the direction of the AGIX/USD price.
SingularityNET was founded in 2017 by chief executive officer (CEO) Ben Goertzel, David Hanson and Simone Giacomelli. Goertzel has more than 20 years of experience in applying machine learning and other AI technologies to longevity and genomics. Hanson, who left the project in November 2018, has founded several robotics startups. Giacomelli previously worked at cryptocurrency consultancy Cryptodex and left the project in March 2019, focusing on technology research and development lab Vulpem.
The team has developed an AI robot known as Sophia, one of SingularityNET's first use cases. The goal is to develop Sophia to become a human-level AI.
SingularityNET is a full-stack decentralized platform "allowing AIs to cooperate and coordinate at scale, removing one of the major limiting factors to AI growth today — the lack of interoperability — which severely restricts the ability to leverage the strengths and capabilities of individual AIs," says the project's website.
What is the AGIX coin? The SingularityNET Marketplace is a decentralised application (dApp) that lists the available AI services and processes payments for services in AGIX tokens using wallets such as MetaMask and General Wallet.
The SingularityNET has three main features: AI Marketplace, Publisher Portal and Staking.


AGIX cryptocurrency holders can stake their tokens in 30-day sessions. At the end of the 30 days, users can continue to stake the tokens or withdraw them along with their staking rewards. The AGIX token is used to pay for services in the marketplace and vote on governance decisions. In December 2021, SingularityNET launched a public testnet for its AGIX ERC-20 Converter Bridge. The bridge will allow token holders to transfer their AGIX from the Ethereum blockchain to the Cardano blockchain.
When moving tokens from Ethereum to Cardano, users will lock their AGIX-ETH tokens in a smart contract on Ethereum and mint an equal number of new AGIX-ADA tokens on Cardano. When moving tokens back to Ethereum, the AGIX-ADA tokens are burned, and the AGIX-ETH tokens are unlocked. The release comes after Cardano's Alonzo hard fork, or blockchain split, and enables SingularityNET "to actively move ahead to build out our cross-chain ecosystem".
SingularityNET's AI partnership with Cardano is one of six projects receiving at least $500,000 in ADA tokens from Cardano's Catalyst Fund7 financing platform.
SingularityNET spun out SingularityDAO in 2020, a decentralised finance (DeFi) protocol designed to automate investments. On 20 December 2021, SingularityDAO launched a beta test of DynaSets, "a dynamically managed set of assets… somewhat like a basket of tokens automatically rebalanced by a combination of humans and AI, incredibly similar to a Hedge Fund in traditional finance".
SingularityNET held an initial coin offering (ICO) in December 2017 and the AGIX token began trading during the cryptocurrency market rally of January 2018 at $0.5393, immediately climbing to its all-time high of $1.86. The AGIX price chart showed that the price had dropped to $0.2756 by 6 February 2018 and fell further to a low of $0.02882 in November of that year.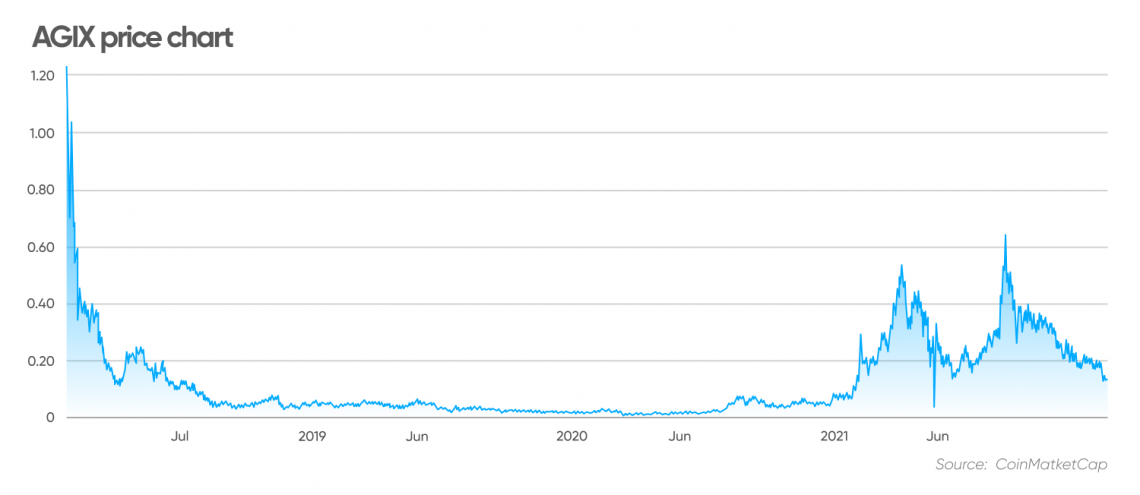 The AGIX token price dropped to $0.009179 in mid-March 2020 and ended the year at $0.0452. The price climbed to $0.5798 in April 2021 when cryptocurrency markets rallied and dropped to $0.1102 as they sold off.
The price climbed again over the summer, peaking at $0.6596 in early September when a short squeeze lifted crypto prices. But AGIX has since been in a downward trend, ending 2021 at $0.2019 and trading down to a low of $0.1167 on 24 January. At the time of writing (26 January), the coin traded at $0.1369.
What's the outlook for the price in 2022 and the coming years?
Technical analysis from CoinCodex showed short-term sentiment was bearish at the time of writing (26 January), with 18 indicators showing 'sell' signals and 14 'buy' signals. Despite the bearish sentiment, CoinCodex predicted that the AGIX token value could rise to $0.1381 by 31 January.
Algorithm-based forecasting site Wallet Investor was bearish on the long-term outlook for the coin in its AGIX price prediction. The site's SingularityNET coin price prediction projected that the AGIX price could fall to $0.0874 by the end of 2022 and $0.0376 by the end of 2023. By 2025, the price could drop further to $0.0136, although it could then bottom out in 2026 and trade at $0.0344 by January 2027.
Gov Capital was also bearish in its AGIX crypto price prediction, expecting the token to fall from a high of $0.26 to $0.194 by the end of 2022 and $0.119 by the end of 2023. The site's deep learning technical analysis projected that the price could fall to zero by September 2025.
In contrast, DigitalCoin was bullish on the long-term trend in its future SingularityNET price prediction. Based on historical data, the site predicted AGIX could average $0.17927051748 in 2022 and $0.28055366444 in 2025, rising to an average of $0.54922779164 in 2029 with a peak of $0.57218540198 in October 2029.
Price Prediction was even more bullish in its AGIX prediction. Based on deep artificial intelligence-assisted technical analysis, the site predicted that the AGIX price could average $0.59 in 2022 and $1.74 in 2025, climbing to an average of $9.91 in 2030.
It's important to keep in mind that cryptocurrency markets remain extremely volatile, making it difficult to accurately predict what a coin's price will be in a few hours, and even harder to give long-term estimates. As such, analysts and algorithm-based forecasters can and do get their predictions wrong.
We recommend that you always do your own research, and consider the latest market trends, SingularityNET news, technical and fundamental analysis, and expert opinion before making any investment decision. Keep in mind that past performance is no guarantee of future returns. And never invest more than you can afford to lose.
Whether SingularityNET is a suitable fit as an investment in your portfolio depends on your personal circumstances and risk tolerance. Cryptocurrencies are volatile assets with a high risk-reward profile. You should evaluate the level of risk you are prepared to accept before investing and never invest money that you cannot afford to lose.
At the time of writing (26 January), AGIX predictions aried, with Gov Capital expecting the value of the coin to fall to zero by 2025, while PricePrediction estimated that the price could average $9.91 in 2030.
Forecasters can and do get their SingularityNET predictions wrong. You should do your own research to make informed trading decisions. Keep in mind that past performance is no guarantee of future returns.
At the time of writing (26 January), most forecast sites did not expect the AGIX price to reach $1 before the end of the decade.
Forecasters can and do get their predictions wrong. You should do your own research to make informed trading decisions. Keep in mind that past performance is no guarantee of future returns.
New to trading? Learn to trade with Capital.com
Why Capital.com?
Simple and intuitive platform
No commission
Competitive spreads
Join the 400.000+ traders worldwide that chose to trade with Capital.com
1. Create & verify your account
2. Make your first deposit
3. You're all set. Start trading
Risk warning
Spread bets and CFDs are complex instruments and come with a high risk of losing money rapidly due to leverage. 78.91% of retail investor accounts lose money when trading spread bets and/or CFDs with this provider. You should consider whether you can afford to take the high risk of losing your money. Professional clients can lose more than they deposit. All trading involves risk. Risk Disclosure Statement
Crypto Derivatives are not available to Retail clients registered with Capital Com (UK) Ltd.
The value of shares and ETFs bought through a share dealing account can fall as well as rise, which could mean getting back less than you originally put in. Past performance is no guarantee of future results.
Capital Com (UK) Limited ("CCUK") is registered in England and Wales with company registration number 10506220. Authorised and regulated by the Financial Conduct Authority ("FCA"), under register number 793714.