The page you were looking for contains information about cryptocurrencies. The sale and promotion of cryptocurrency derivatives to UK Retail clients has been banned by the FCA since 6 January 2021.
Scan to Download ios&Android APP
What is a STEPN coin?
How does STEPN's GMT work?
STEPN future plans: Carbon neutrality and rental system
STEPN's token analysis: GMT price soars in first month
STEPN price prediction: The latest GMT sentiment
STEPN GMT price prediction 2022-2025
Is GMT crypto a good investment?
FAQs
By Nicole Willing
Edited by Alexandra Pankratyeva
17:10, 4 April 2022
Share this article
Tags
Have a confidential tip for our reporters?
Get In Touch
STEPN is a blockchain-based lifestyle app that incorporates elements of gaming finance (Game-Fi) and social finance (Social-Fi) to reward users for moving around. One of the first apps based on the concept of "move-to-earn", STEPN launched its Green Metaverse Token (GMT) cryptocurrency in March.
What is GMT, and how has the coin performed in its first few weeks of trading? In this article we look at GMT crypto news and its potential as an investment asset.



STEPN was created in August 2021 by Australia-based Find Satoshi Lab, led by co-founders Jerry Huang, a game developer, and Yawn Rong, an entrepreneur and start-up incubator.
The third-generation Internet (Web3) mobile app game uses non-fungible tokens (NFTs) on the Solana (SOL) blockchain to equip users with virtual sneakers. Users earn cryptocurrency tokens by walking or running outdoors, which they can use in the game to trade assets or exchange for other currencies to cash out. The app uses the mobile device's data signal and GPS to track the user's movement.
Each NFT sneaker has different characteristics and rarity. There are four different types of sneakers: the Walker, the Jogger, the Runner and the Trainer.
The project finished 4th in the gaming track in the Solana Ignition Hackathon, which ran from 31 August until 15 October 2021. STEPN started private beta testing on 3 November 2021 and launched the public beta the following month.
On 20 January, STEPN announced that it raised $5m in seed round financing from technology investors, including Sequoia Capital, Folius Ventures, Solana Capital and Alameda Research.
STEPN has a dual-token structure, with an in-game token Green Satoshi Token (GST) and a governance token (GMT).
The STEPN crypto token, GMT, was launched on 9 March in an initial decentralised exchange offering (IDO) on the Binance cryptocurrency exchange. The token generation event (TGE) minted the total supply of 6 billion coins and entered 10% into initial circulation.
Of 6 billion tokens in total, 30% will be distributed to users for completing move-to-earn tasks and participating in governance. "To ensure the longevity of the STEPN project, the total release of GMT will halve every three years," according to the whitepaper. "Each day, a set number of GMT will be unlocked to earn." Another 30% of the tokens will be allocated to the Treasury.
Users start earning the STEPN GMT coin when their sneaker NFT reaches a certain level. They can burn GST to level up their sneakers.
The NFT sneakers, badges and gems are bought and sold on the STEPN marketplace. The STEPN development team reserves 2% of trading fees to support its operations. At least 5% is allocated back to the ecosystem. STEPN will launch in-app trading and swapping functionality in April.
We will open GMT in-app trade/swap function in April. Stay tuned for more details! pic.twitter.com/obRSyF38O0
In the future, the development team plans to introduce carbon offsetting, with GMT stakers voting to decide how much STEPN will donate from its Treasury profit pool to buy carbon emissions removal credits on the blockchain. They are also developing a donation system that will enable users to donate their GST earnings to buy carbon credits.
During the second quarter of 2022, the development team plans to introduce multi-chain support for the STEPN wallet and marketplace.
GME
AAPL
GOOG
TSLA
STEPN plans to introduce a rental system during the third quarter that will enable new users to rent sneaker NFTs so that they can participate without having to buy them first.
The GMT price launched at $0.1536 on 9 March and reached $0.844 on 17 March, a gain of 449% in just over a week. GMT slid to $0.5741 on 20 March but resumed the rally and traded to a new high of $0.8858 on 22 March. After a pullback to $0.6782 on 25 March, GMT accelerated its upward trend and jumped to $3.11 on 1 April, a 1,925% gain from the launch three weeks before.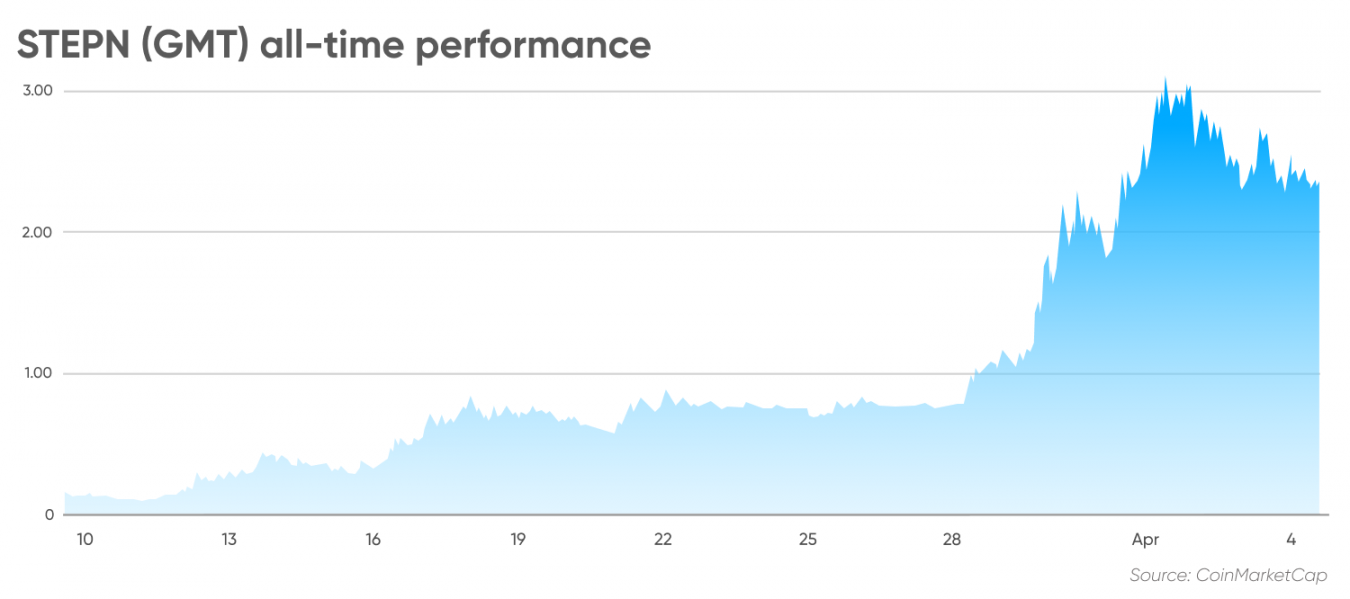 GMT is the 7th largest gaming cryptocurrency by market capitalisation, as of 4 April, according to CoinMarketCap.
What is the outlook for the GMT price? Below, we look at the latest predictions.
Early technical analysis from CoinCodex showed nine bullish indicators and six 'sell' signals at the time of writing on 4 April. The three-day simple moving average (SMA) was bearish, while the five-day, 10-day and 21-day SMAs were bullish, along with the exponential moving averages (EMA).
The relative strength index (RSI) at 83.15 was overbought, giving a sell signal, along with the Hull moving average (HMA), while the volume weighted moving average (VWMA) was bullish.
With a GMT pivot point at $2.49, there was technical support at $2.24 down to $1.77, with resistance from $2.72 up to $3.19, the CoinCodex data showed. The website's GMT token price prediction indicated that the price could fall through support to trade at $0.944637 by 9 April.
For the long-term, DigitalCoin was bullish in its STEPN GMT coin price prediction. Based on historical data, DigitalCoin projected that the price could average $3.01 in 2022 and rise to $3.44 in 2023 and $3.59 in 2024. By 2025, the forecast predicted that the GMT price could climb to an average of $4.33 and by 2030 the token could average $10.58.
Price Prediction expected a slower pace of growth until later in the decade in its GMT crypto price prediction. Its deep artificial intelligence-assisted technical analysis has the price averaging $0.32 in 2022, $0.48 in 2023, $0.70 in 2024 and $1.03 in 2025. However, the service suggested GMT could climb to $6.24 by 2030.
It's important to keep in mind that cryptocurrency markets remain extremely volatile, making it difficult to accurately predict what a coin's price will be in a few hours, and even harder to give long-term estimates. As such, analysts and algorithm-based forecasters can and do get their STEPN coin prediction wrong.
If you are considering investing in cryptocurrency tokens, we recommend that you always do your own research. Look at the latest market trends, news, technical and fundamental analysis, and expert opinion before making any investment decision. Keep in mind that past performance is no guarantee of future returns.
Cryptocurrency prices are highly volatile, especially new tokens like GMT. It is important to do your own research on a coin or token to determine if it is a good fit for your investment portfolio. Whether STEPN (GMT) is a suitable asset for you will depend on your risk tolerance and how much you intend to trade.
When looking for GMT future projections, bear in mind that analysts' and algorithm-based GMT crypto price predictions can be wrong. Their expectations are based on fundamental and technical studies of the cryptocurrency's past performance, which offers no guarantee of future results.
As of 4 April, forecast sites, including Digital Coin and Price Prediction, gave mixed GMT target prices. Digital Coin expected that the GMT price could average $3.01 in 2022, while Price Prediction expected it to decline to $0.32 in 2022. Both services gave bullish longer-term GMT predictions. But you should not rely on price predictions and do your own research to take an informed view of the project.
GMT is a relatively new cryptocurrency, launched on 9 March in an offering on the Binance exchange.
The week ahead update on major market events in your inbox every week.
New to trading? Learn to trade with Capital.com
Got a trading idea? Try it now.
Join the 380.000+ traders worldwide that chose to trade with Capital.com
1. Create & verify your account
2. Make your first deposit
3. You're all set. Start trading
Risk warning
Spread bets and CFDs are complex instruments and come with a high risk of losing money rapidly due to leverage. 78.91% of retail investor accounts lose money when trading spread bets and/or CFDs with this provider. You should consider whether you can afford to take the high risk of losing your money. Professional clients can lose more than they deposit. All trading involves risk. Risk Disclosure Statement
Crypto Derivatives are not available to Retail clients registered with Capital Com (UK) Ltd.
The value of shares and ETFs bought through a share dealing account can fall as well as rise, which could mean getting back less than you originally put in. Past performance is no guarantee of future results.
Capital Com (UK) Limited ("CCUK") is registered in England and Wales with company registration number 10506220. Authorised and regulated by the Financial Conduct Authority ("FCA"), under register number 793714.